Your latest Footcare Tips
Brought to you by our Professional Podiatrist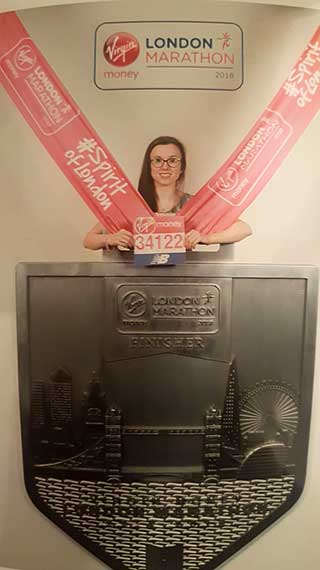 So it's now been two weeks since the London Marathon and its finally starting sink in that I completed it and its over! I finished much slower than anticipated but the fact that it was the hottest ever London marathon I am just really glad to have made it safely round. The heat really took its toll, despite all my training my body really wasn't prepared for running in heat, especially when all my long training runs had been in snowy or icy conditions.
It was amazing what heat can do and for the first time I got cramp whilst running due to the amount of salt I was losing, lots and lots of stretching from mile 15 onwards got me round. I was so happy that my knee and hip injuries I had suffered with in training caused no problems on the day, so all the hard work with the exercises, stretching and sports massages really helped. I was also very grateful that I did not get any blisters, although I saw many injured feet at the finish line with blood blisters, damaged or fallen off nails, cuts etc. Having the right shoes and orthotics really does pay off in the end!
Throughout all the training I said I would never put myself through this again as the training was very intense, I said that the fact I raised a lot of money for charity was worth it but once only…. However of course I have already applied for a place again next year through the general ballot so I may get to experience it all again. I think it's impossible to experience that atmosphere on the day with strangers screaming your name and cheering you on to get you round the course and never want to feel that again! That feeling was worth every pain/ache/blood/sweat and tears from training and the day.
Finally, my last few tips for if were considering running a marathon for the first time:
Stick to a training plan- if like me you had no idea about how to train for such an endurance race having a plan to follow makes you make the right choices.
Listen to your body, if you need a few rest days take it… you will only suffer later on if you keep going when you need a break.
See experts – if you're having any issues seek expert help to make sure you stay well before the big day- health care professionals such as Podiatrists and Physiotherapists have a wealth of knowledge to keep you running.
Finally it is the biggest sense of achievement crossing that line to go for it, and ENJOY it!
Written by Laura Hembling
for advice or treatment call the Basildon/Romford Chiropody,Podiatry & Footwear Centres
One thing I have learnt about marathon training is that no matter how well you set your training plan, eat well, sleep well etc… things do not go to plan! The beast from the east hit us… twice! Causing mayhem generally but causing me to go off plan and change my runs as it was just too cold or too dangerous to be out road running. Fortunately im a member of a local gym so I was able to get in some shorter runs on a treadmill, but not even my dedication to training could give me motivation to do a 16 mile run run on a treadmill!

I am a great lover of plans and lists so this has caused me lots of stress and worry that I have had to change what I am doing but you cannot plan for every eventuality and have to do the best you can. It has definitely given my knee a bit of rest which is helping, as well as me sticking to my strengthening exercises and stretches and the dreaded foam roller which is torture! Whilst I was doing the shorter runs last week I had been keeping a close eye on the weekend forecast which was beast from the east 2… fortunately the snow hit us on the Saturday and although it was freezing it was safe enough Sunday for me to get out and do my longest run yet of 18 miles! I feel so relieved to have that under my belt. My knee is feeling it now but again im icing it regularly and now having a few rest days to recover.
Lateral knee pain isn't the only knee issue that troubles runners, especially those increasing their mileage whilst training for an event. Runners are often plagued by Patella femoral pain (or pain in the front of their knee/kneecap). With this condition both knees can be affected and most pain is felt when bending the knee. Running, a repetitive bending of the knee, can cause the patella (knee cap) to compress against the thigh bone (Knott,2018). There are lots of reported reasons as to why this condition can occur ; it can be weak hip muscles which cause abnormal pulling on the patella, a physiotherapist or personal trainer will be able to work with you for this to give you specific excercises to help strengthen these muscles; poor foot posture, having low arch feet can cause your leg to roll inwards again putting strain on the patella, a Podiatrist will be able to assess this for you and give you insoles and exercises that will help to correct this; injury to the knee, repetitive stress could cause acute injury to the area. If you are suffering with pain in the knee then its always worth getting it checked out early on to try to prevent further issues!
by Laura Hembling - Podiatrist
for advice or treatment call the Basildon/Romford Chiropody,Podiatry & Footwear Centres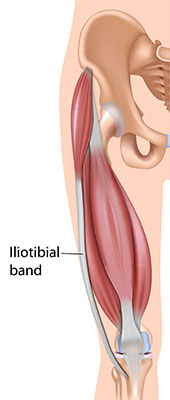 Having survived my weeks snowboarding holiday without any major injuries (other than lots of bruises!) I have been back at my training plan this week. It's been tough, it's amazing what a week off of running does to you, but mentally I felt I really needed a break from running as I was starting to dread putting my running trainers on and going out in the cold! Having returned in one piece I felt ready to get back on plan and I gradually got back into it at the start of the week by doing some shorter runs and have just completed my long run of 14 miles… it was tough both mentally and physically and unfortunately at about 12 miles I started to get a lot of pain on the outside of my right knee.
As I know about knee anatomy from my profession, I was quickly able to establish the cause of pain once I hobbled home. The location of my pain and type of pain leads me to believe it is Illiotibial band syndrome. This condition is a very common overuse injury in runners. The Illiotibial band is a long tendon that attaches from your hip to you knee along your outer thigh (see photo one). Repetitive movements, like running, can cause this structure to become tight and or inflamed (Runners world, 2017) causing pain around the attachment at the outer knee.
Once I got home from running I applied ice for 10 mins and will repeat this later to help reduce any localised pain and inflammation. It will also mean taking a few days rest from running to allow my symptoms to settle before gradually building up my mileage slowly. Runners world (2017) also have lots of useful tips to try reduce the risk of this occurring again, these include foam rolling (all leg muscles), long and regular stretching, and doing leg strengthening exercises to help build up my leg muscles and reduce any potential weakness… I will let you know how I get on!
Written by Laura Hembling
for advice or treatment call the Basildon/Romford Chiropody,Podiatry & Footwear Centres
Did you know about the range of beauty treatments offered at the Basildon Practice?
Check out the new website at beautyinbasildon.com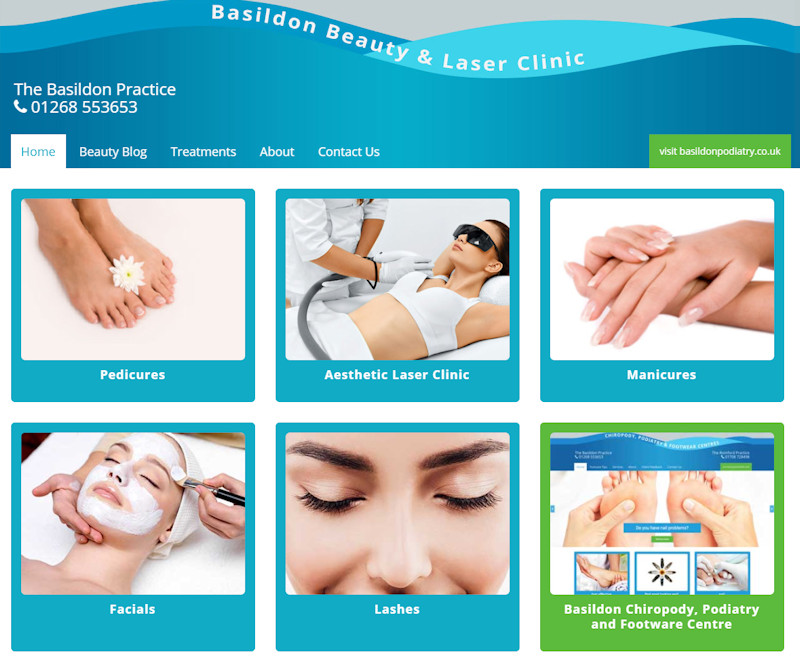 Services include:
Exciting news - We are pleased to be supporting Laura Hembling our podiatrist in training for the London Marathon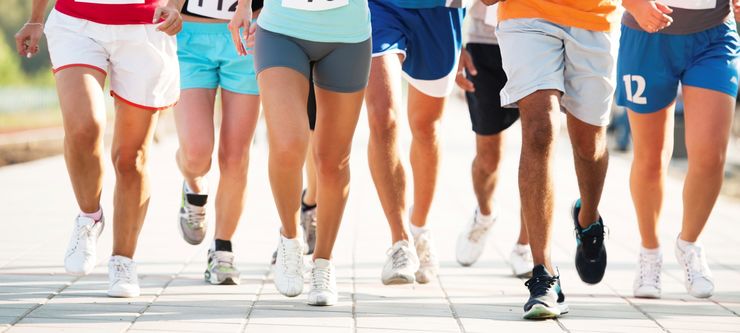 Over the past few years I have trained for and run a few half marathons, I have always enjoyed running but would train for an event and stop running once I finished it. I was never very good at training well and relied on my body just to perform on the day. However when I found out back in October that I had secured a place in the London Marathon I decided I had to change this if I wanted to stay injury free and run the best time at the marathon I could.
I started to gradually increase my total weekly running mileage between October and the new year so that when I started my official training program (totally new to me!) it wouldn't seem like such a shock.
So far I am a week and a half into this program and its been tough! Having the motivation to get up and get out in the wet, windy weather in the dark on my own has been hard, but the thought of the money that I am raising for Alzheimer's society is definitely helping me. I have been trying to varying my training to stop me getting bored and to help all aspects of my running. I have started doing some interval training to improve speed, some steady long running ( I have 12 miles to look forward to this Sunday!)
I am going to be updating you on my progress as my training steps up and I will be discussing a condition of the week explaining some of the common injuries that long distance running can bring. But to get started here are my top tips for reducing the risk of injury:
Have a foot check with a Podiatrist- this will ensure that your feet are healthy for what you are about to put them through, they can look at you trainers as well to make sure they are suitable
Always warm up and cool down, its vital to prepare your muscles before a run and to stretch them afterwards to reduce the risk of muscle strains/pulls or tears
Gradually increase your running- doing too much too soon will put your body at risk of injury, especially if you are not used to running
Build in cross training - instead of running 4-5 times a week, look at building in a cycling/swimming/group exercise class in, this will give you running muscles a break to recover whilst also working on strength and cardiovascular work
If you feel pain, then rest and seek support from a Podiatrist or Physiotherapist.
Written by Laura Hembling
Podiatrist and Diabetic Foot Specialist at The Basildon Practice
If you wish to make a donation then please go to:
Thank You

This year we are proud to support one of our team members in raising money for Alzheimer's disease .Laura Hembling Podiatrist and Diabetic foot specialist has been accepted to run in the London marathon in April 2018.
As a practice we will be helping to raise money for this very worthwhile cause. We look forward tracking her training right through to the finish line.
We are looking forward to looking after Laura's feet and well being as she embarks on such a worthwhile cause.
If you wish to make a donation then please go to:
Thank You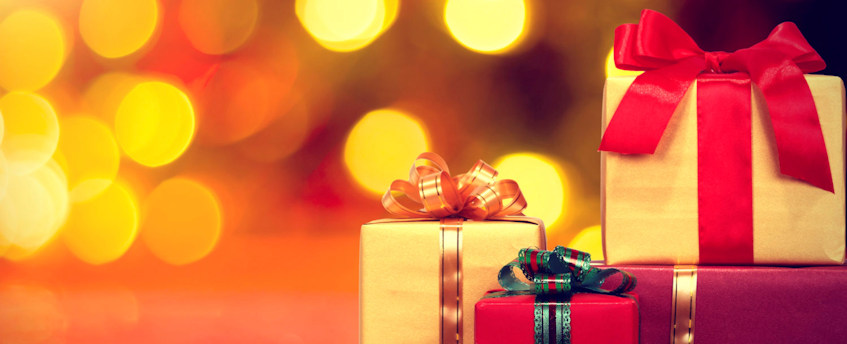 How about gifting someone special a gift voucher that will entitle them to any one or combinations of the following:
Manicure

Pedicure

Facial

Back, Neck and Shoulder Massage

Various Beauty Pamper packages available
All beauty treatments are carried out in the relaxing, friendly therapy room within the Basildon Podiatry surgery.
Call us on 01268 553653 so we can create your own perfect gift voucher
Or email By clicking Here
Welcome to Laura!
Basildon Podiatry & Laser Clinic have a new team member, Laura Draper.
To celebrate we are offering a discount of 15% for the first Luxury Pedicure
To claim your gift just telephone 01268 553653 and quote "LD"
This offer is limited to the first Luxury Pedicure and to one treatment per person - The offer ends on Wednesday 31 January 2018
What People Say
The pain in my feet has gone

I no longer consider buying my footwear from anywhere else and would...

A Cheerful Podiatrist

I have always found Mrs. Patel to be cheerful and friendly, as well...