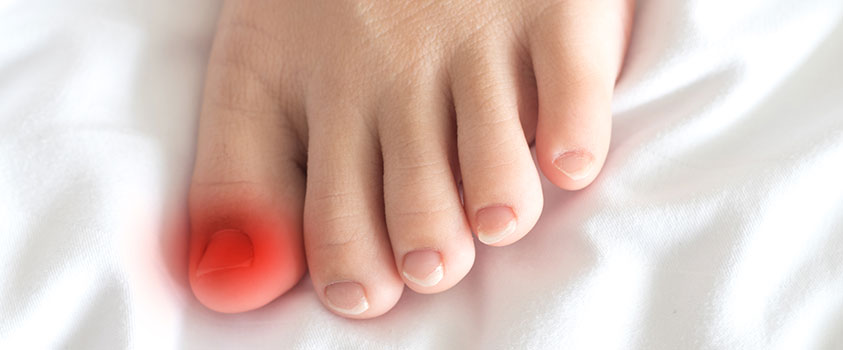 We've chosen ingrown toe nails as this week's focus simply because over lockdown and since reopening, we seem to be inundated with people desperate for urgent help for their painful ingrown nails !
Some people have come to us frustrated after trying home cures or been back and forth to the doctor's or even A&E and been prescribed antibiotics to no avail .
Although we're not sure why we're seeing a higher volume of patients with ingrown nails, we think it may be as a result of the drastic change in people's routines and footwear over the long period of lockdown
Many people have regular podiatry care and the long wait for a nail care appointment may have left them more likely to develop foot health issues.>
Added to that the spring and summer months are our busiest, when people present with a wide range of foot problems.
Well you'll be pleased to know that you're here now and you're in the right place in safe hands with the right medical professionals since we are the qualified foot health experts!
From our years of experience and practice we are confident that we can provide you with a satisfactory solution with the the right plan of action designed for you.
How do we work ?
We encourage you to reach out so we can assess your nail.
We have several ways to assess you and advise whether you are still shielding and unable to get to us or whether you can come to our covid-safe clinics
What does an ingrown nail look and feel like like ?
As a rule, if the nail or a spike of nail is growing into or piercing the flesh or the flesh at the side of the nail is encroaching onto the nail and you have one or a combination of redness, swelling, infection ( pus) and a throbbing or sharp pain, then chances are you gave an ingrown nail.
How do we treat an ingrown nail ?
There is no one universal treatment, it all depends on why you have the problem and How long you've had it.
Sometimes one or two simple routine podiatry appointments can solve things with careful removal of the section or spike of nail Other times some form of minor nail surgery may be needed.
We will always discuss the options with you and endeavour to find the best and quickest route to a cure .
Between our team of 8 podiatrists across the three sites, we have podiatrists who specialise in nail problems and nail surgey with over 30 years experience. Please see our reviews and testimonials.
You do not have to put up with pain or continue having recurrent infection. So please reach out to us so we can relieve your pain and restore your quality of life so you can get back to doing all the things you enjoy without worrying about pain.
We look forward to helping you!