Feedback about the Podiatry, Chiropody and Footcare services
The treatment I received from Anita was of the highest professional standard. The details of my condition were explained to me clearly and concisely and the course of treatment outlined. This included home exercises. The treatment has been successful and I no longer experience pain when walking.
All in all a very impressive and effective course of treatment.
In our Romford practice on Tuesday we saw a lady seeking our expert help.
She had had debilitating pain for over 6 months.
After scanning and assessing her we found that a key factor in her symptoms were a low arched foot type and poor fitting footwear. She was wearing a pair of flimsy trainers for work which she was not lacing up and sloppy slippers were worn at home.
So, our key focus was to give footwear advise. We fitted her with a pair of our house shoes and supportive orthotics/insoles into her shoes.
She felt immediate relief and reported a feeling of being supported and comfortable in her shoes.
We also showed how to tie her shoe laces correctly and explained the importance of this. We sent her away with an easy to follow rehabilitation programme. She was so pleased with the outcome and happy on leaving. We will review her in 3 weeks.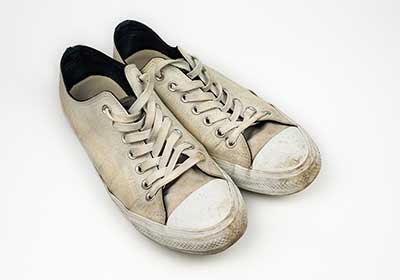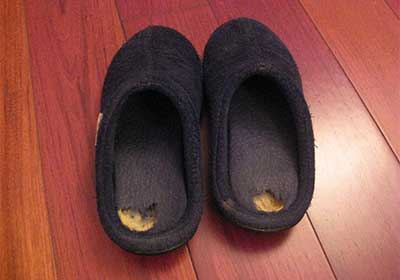 I no longer consider buying my footwear from anywhere else and would recommend your products without hesitation
Melanie Webb

See the full letter here
My feet were so painful I couldn't stand when I got up out of bed. During my appointment with Sushila Patel she swiftly diagnosed me with something called plantar fasciitis. She supplied me with special insoles to correct my posture and within days I was pain free! Sushila also sold me the most fabulous fashionable heeled shoes that enabled me to stand all night playing Bass Guitar in a rock band!
Carol O'Regan
I have been attending Mrs. Patel's surgery for many years and benefit immensely from the advice and treatment she provides, especially the removal of hard skin from my feet.
Chris Tooley
I am extremely pleased with the kindness and service that I was shown by Sushila Patel. The shoes have made my life so much easier and are enabling me to slowly gain my mobility level back. Thankyou for your help, much appreciated.
Cheryl Robertson

See the full letter here
I go to Sushila Patel as I like happy comfortable feet. I have been going for many years and find her helpful and professional.

Mrs Atkinson
Having spent two very uncomfortable years and many hours of hospital consultations in an endeavour to find the source of the problem with my feet one visit to Sushila Patel identified the cause, and with proper insoles my feet are now the most comfortable they have been in years.
Ian Horne

See the full letter here
I have always found Mrs. Patel to be cheerful and friendly, as well as being a good chiropodist. Appointments are easy to make and very punctual.
Mr Cross
I visited the practice after suffering severe heel pain. After assessment, treatment and some very good advice; I am now pain free. I made purchases of shoes, slippers and orthotic insoles. Altogether I am extremely pleased with the service and attention that I received.
Dave Hill (Romford)
Sushila Patel has been looking after my feet for more than 20 years. Her clinic is neat and clean and she is very friendly as well as most professional. Her knowledge of the profession is amazing and I look forward to my appointments with her. An enjoyable experience.
Sue Johnson
It really was agony to walk and I was limping badly. Mrs Patel got to work and it was INSTANT relief! I walked around with a smile on my face and without a limp.
Christina Fletcher

See the full letter here