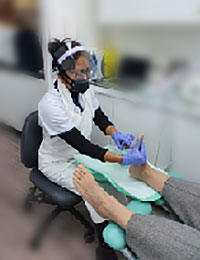 Hello, my name is Rashmita, I am a Podiatrist and part owner of Billericay Podiatry Clinic. During my working life I have had the benefit of extensive experience through working in the NHS and in private practice. Over the years I have attended many additional courses which have helped to reinforce my knowledge and allowed me to learn new skills and new thinking around treatment protocols and planning.
I also run a practice in Enfield which I have been doing for the past 18 years. This is within a multidisciplinary setting with other health professionals. This ran alongside working in the NHS. Entering private practice was a learning curve as I had to learn how to market my practice and build it from scratch. This has been a very valuable learning experience and continues to be as the world of marketing is always changing.
I have been a Podiatrist for over 30 years, and I still enjoy treating patients and helping them to feel better. Today we have the help of technology in the clinic to enable us to do this in a much more effective way. This together with an extensive and evolving knowledge base I feel is constantly improving the way in which I can provide and strive to provide excellent health care.
At Billericay I work as part of a team between two practices the other being Basildon Podiatry Clinic. Working as part of a team provides an opportunity to discuss issues with a colleague and also to refer a patient to someone who may be better able to deal with their issues. We have a team of extremely efficient and affable reception staff who have a great rapport with our patients.
I never feel as though I have been in this profession too long as it is always changing with new thinking and innovation.
When I have spare time, I like to go for a swim or to the gym. I also enjoy gardening and have many house plants. I also enjoy creative pursuits and my goal is to do more of this and especially painting.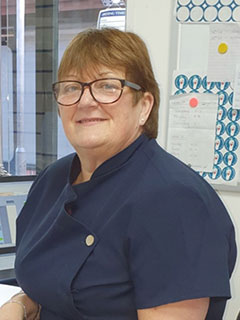 I joined Rashmita and Sushila just as they set up their joint private practice in Billericay. I have worked in admin roles before, but I enjoy the interaction that I have with the patients at the practice. I have seen the practice and the team grow as well as witnessing the introduction of new and diverse treatments.
As I am diabetic, so it is great to know that my feet are looked after, and I now understand the benefit of regular general and preventative foot care as well as the need for diabetic assessments.
I enjoy talking to our older patients and I know that they look forward to coming and having a chat with me as we catch up on all the news. I also understand that some patients are nervous and sometimes a little embarrassed of their feet, but I like to put then at ease and assure them that the Podiatrist will take good care of them.
I was a little anxious coming back after the first lock down but Rashmita and Sushila had put covid safety measures in place for the patients and for us all as a team and it became second nature to us whereby I settled back into my role easily.
My hobbies are walking my dog and reading non-fiction and historical novels.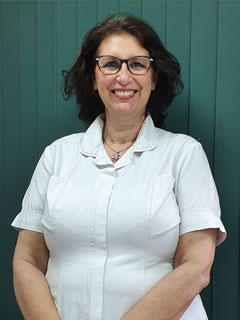 I qualified from UEL as a Podiatrist in 2006. My first job was working within the South East Essex NHS. I stayed there for 2 years gaining valuable clinical experience and the confidence to be able to set up my own private practice. I happily worked within my own setting for 11 years but then felt that something was lacking and that I would benefit from being part of a team.
I took up the opportunity of joining Basildon and Billericay Podiatry right in the middle of the pandemic. I was a little apprehensive to begin with, however I soon became an integral part of the Practices. I enjoy treating a wide variety of conditions and meeting all the patients but especially those that have been attending for regular treatments over the years. The whole team have been welcoming, kind and professional.
I love to walk, swim and exercise in my spare time and enjoy most spending time with my friends and family.
What People Say
I no longer experience pain when walking

The treatment I received from Anita was of the highest professional...

So it was Plantar Fasciitis!

My feet were so painful I couldn't stand when I got up out of bed. ...