Senior Podiatrist and proprietor Romford Podiatry
Anita qualified from The London Foot Hospital in 1989.
She worked in the National Health Service in Stockport after qualifying and later moved to Essex where she commenced private work in Wickford, Essex, working closely with physiotherapists. She carried out locum podiatry clinics for Castle Point and Basildon Health Authorities and domiciliary work while building up her own private practice in Romford to which she now dedicates all her time.
During her 30 years of practice, Anita has evolved as a skilled practitioner having the ability to treat foot problems in a holistic way by understanding how pain can affect all aspects of life and endeavouring to identify the root cause of problems. She believes in empowering her patients to help themselves as much as possible while being supported with podiatry care , Anita's greatest strength are her people skills, care, understanding.
Anita is an experienced practitioner and over the years has added to her skill set, offering a range of treatments involving footwear analysis and professional footwear supply and fitting, all aspects of nail health including gel reconstruction treatments for damaged and thick nails, heel and foot pain treatment programmes, therapeutic foot and leg massage and insole and orthotic prescriptions.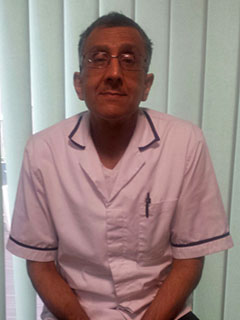 Mr Manjit Bedi qualified in 1987 from Cardiff School of Podiatry and is an experienced Podiatrist.
He has carried out a variety of posts in the Health Service, 22 years NHS Podiatry and 8 years as Senior Manager in Hospital.
Manjit has been our associate podiatrist here at Romford Chiropody, Podiatry & Footwear Centre since 2014 and is a well-liked popular practitioner with a variety of skills in skin and nail problems.
Manjit Bedi He is very attentive to the needs of nervous patients and carries out his treatments with great care. As well as routine foot care clinics Manjit carries out home visits for the practice. Manjits specialism and skills are in General Podiatry, Nail Surgery and Diabetic assessment.
In his free time, Manjit enjoys running and keeping fit and healthy.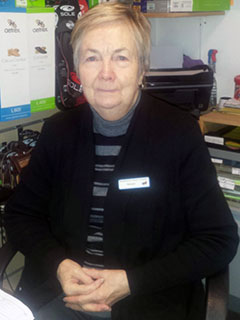 Receptionist and footwear consultants
Sandra and Maureen are receptionists at the Romford Surgery. Maureen has worked within the Practice for over 6 years and enjoys talking to people and has been with Anita as the practice has grown.
Sandra has been at the Practice for 3 years and also works at the Basildon Practice and is therefore able to implement admin systems at both places to ensure that both practices run smoothly. They are invaluable and caring members of the team especially as they both have a keen interest in the fitting and supply of shoes as well as being able to carry out footwear assessments.
They have a good understanding of all the different types of treatments that are offered at the surgery and always keen to help.
What People Say
So it was Plantar Fasciitis!

My feet were so painful I couldn't stand when I got up out of bed. ...

Case history of a patient with heel pain

In our Romford practice on Tuesday we saw a lady seeking our expert...