Senior Podiatrist and proprietor Romford Podiatry
Anita qualified from The London Foot Hospital in 1989.
After qualifying, she worked in the National Health Service in Stockport and then Castle Point and Basildon Health Authorities while building up her own private practice where she now dedicates all her time.
During her 32 years of practice, Anita has evolved through much life experience and many years of treating feet as a skilled practitioner having the ability to treat foot problems in a holistic way by understanding how pain can affect all aspects of life.
Anita always endeavours to identify the root cause of problems. She believes in empowering her patients to help themselves as much as possible while being supported with podiatry care.
Anita is an experienced practitioner and over the years has added to her skill set, offering a range of treatments involving footwear analysis and professional footwear supply and fitting, all aspects of nail health including gel reconstruction treatments for damaged and thick nails, heel and foot pain treatment programmes, therapeutic foot and leg massage and insole and orthotic prescriptions.
She truly embraces her core value to help others improve the quality of life believing strongly that mobility , independence and comfort are vital to physical and mental well-being.
The pandemic has been a hugely challenging moment, but she has drawn on her experience and developed resilience to adapt and evolve as a practice and as a health care professional, her key focus has been to look after the safety of her patients and her team while continuing to look after her patients feet.
Anita is able to work with many foot health conditions, however she thoroughly enjoys carrying out treatment and care for those who want to make the best of their feet by having regular podiatry skin and nail care. She excels on prevention of problems by crafting bespoke self care plans and recommendation of skin and nail products to enhance treatment. She loves helping her patients to achieve feet that not only feel great but also look good, this is very rewarding for her and provides many long term benefits for her patients, these appointments provide a truly 'walking on air' experience!
Anita's interests and hobbies are tap dancing, cooking and baking, reading, connecting with nature, self-help and well-being especially stress relief, nutrition, breathwork, meditation and aromatherapy. She always can find common ground and have interesting chats to connect with and make her patients feel at ease and safe.
Her greatest strengths are her people skills, empathy, understanding and sense of humour and these are the qualities together with her podiatry skill and experience that patients value enough to return to her through knowing, liking and trusting her.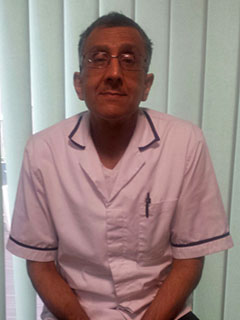 Mr Manjit Bedi qualified in 1987 from Cardiff School of Podiatry and is an experienced Podiatrist.
He has carried out a variety of posts in the Health Service, 22 years NHS Podiatry and 8 years as Senior Manager in Hospital.
Manjit has been our associate podiatrist here at Romford Chiropody, Podiatry & Footwear Centre since 2014 and is a well-liked popular practitioner with a variety of skills in skin and nail problems.
Manjit Bedi He is very attentive to the needs of nervous patients and carries out his treatments with great care. As well as routine foot care clinics Manjit carries out home visits for the practice. Manjits specialism and skills are in General Podiatry, Nail Surgery and Diabetic assessment.
In his free time, Manjit enjoys running and keeping fit and healthy.
What People Say
Removal of Hard Skin from my Feet

I have been attending Mrs. Patel's surgery for many years and...

A Cheerful Podiatrist

I have always found Mrs. Patel to be cheerful and friendly, as well...