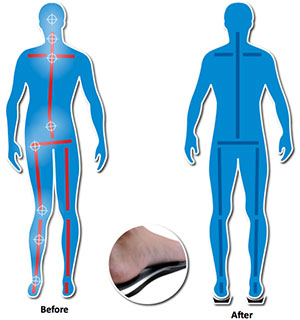 Orthotics are devices made of lightweight materials that range in complexity from simple shoe inserts/insoles bought over-the-counter to custom-made devices that require impressions, casting, and computer technology to create.
Orthotics are helpful in various ways. They help restore your ability to walk, run, and jump by reducing pain and swelling, and they increase the stability of unstable joints and provide better arch support.
They also permit the healing of various foot conditions such as plantar fasciitis, achilles tendonitis and mortons neuroma to name but a few.
There are many types of orthotics.
There are simple orthotics that can be purchased easily however a medical professional such as a Podiatrist will always recommend that you seek a consultation. This may involve a biomechanical examination before orthotics are prescribed to you for your specific individual requirements.
The podiatrists at the Basildon and Romford surgeries are stockists of an orthotic system that is #1 in the USA and recommended by doctors and pedorthists.
They are available in a variety of styles to provide you with a custom selected solution based on your specific foot type and foot style.