Ask any woman…high heels are an essential part of the wardrobe – they make your legs look longer and your bottom smaller. But they can cause problems ranging from blisters, corns and calluses to serious foot, knee and back pain. Fear not, following the four "Gs" will help you to enjoy wearing high heels without damaging your feet. Enjoy your high heels, but only wear them for short periods of time, and only occasionally.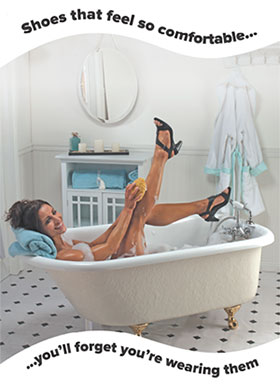 Glamour – Let high heels give you that extra "sparkle" and save wearing them only for glamorous, special occasions. Limit wearing them to around three to eight hours.
Glide – Don't look like you're rushing to catch a bus – slow down and take smaller steps. Put your heel down first and glide! Not only will this minimise damage to your feet, it will give you that sexy high-heel wiggle!
Guide – According to leading podiatrists, 90% of patients wear shoes that are too small.
Give – Give your feet some extra-special attention after wearing high heels – enjoy a relaxing foot bath and a moisturising massage when you get home.
Both Basildon and Romford practices stock a range of high heel shoes that have been designed with comfort in mind.
We can also look at your own high heels and fit them with orthotics to make them more comfortable for you.