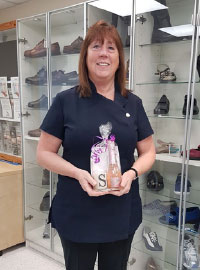 Sandra joined me as a part time receptionist in 2011. At the time I was in the process of expanding my small 'one-man band. 'Practice and to begin with she worked in a tiny waiting room which consisted of one small desk, a phone and a diary and no real space for anything else. Sandra patiently stayed with me as we demolished the surgery and worked in the cramped conditions of a portacabin for the next 9 months. When we finally moved into our new purpose-built Podiatry surgery, she was instrumental together with Simone(receptionist) in setting up the staff room, organising the reception area and eventually transitioning us from paper diaries to a digital practice management diary.
As the Basildon podiatry team grew Sandra was able to implement systems, support the team and serve the patients in her professional and caring manner. Sandra progressed to become a footwear consultant who then became an expert in scanning feet and fitting Patients with shoes and orthotics.
Over the years as a team we had some good quality times outside of work, meeting for meals, days out and the odd show. Although Sandra worked at Basildon podiatry, she was and is our friend and so it is with sadness that we are all having to say goodbye to her. Unfortunately, she is leaving us to care for her husband who was suddenly taken ill earlier this year.
I would like to wish her on behalf of the Basildon Podiatry team and all our Patients a fond farewell with loads of love and say that we will all miss you and hope that you will be able to stay in touch with us. Personally I am so grateful and thankful that you joined me at Basildon Podiatry just as we were expanding and helped it to progress and become the centre of excellence in looking after feet that it is today.
Thank you, Sandra.