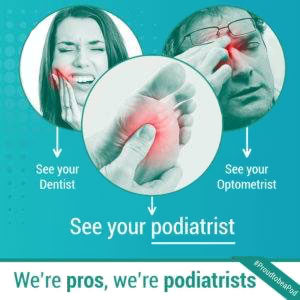 Podiatry is the field of medicine that specialises in assessing, diagnosing and treating conditions of the foot and lower limb. A podiatrist can also give you advice about foot care, gait analysis and on the best footwear for you and your family.
When do I need to see a podiatrist?
In many cases, following our self-care tips will help the problem improve. If it doesn't, it's best to seek professional help.
You should visit a podiatrist if:
Your feet hurt – they will assess your condition and advise you on the best treatment.
Your symptoms are getting worse – a problem isn't improving naturally, or within three weeks of self-care.
You want to prevent foot problems – a regular foot check can help keep your feet healthy.
How do I get an appointment with a podiatrist?
There are different ways to see a podiatrist, and may depend on where you live:
Go through your GP
They may be able to refer you for an NHS podiatry appointment. Or in some areas, you may be able to self-refer.
Visit your local independent practice podiatrist
It's important to find a professional who is registered with the Health and Care Professions Council (HCPC), which is the UK-wide regulatory body.
Use the tool on our website to find a podiatrist near you: https://www.scpod.org/find-a-podiatrist