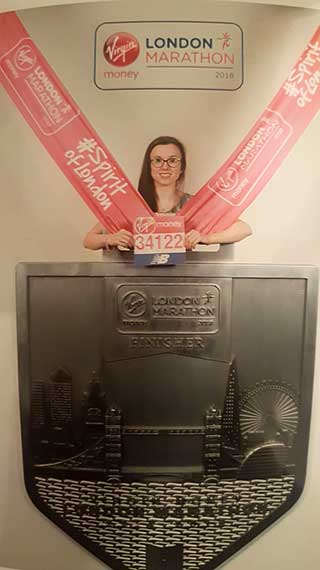 So it's now been two weeks since the London Marathon and its finally starting sink in that I completed it and its over! I finished much slower than anticipated but the fact that it was the hottest ever London marathon I am just really glad to have made it safely round. The heat really took its toll, despite all my training my body really wasn't prepared for running in heat, especially when all my long training runs had been in snowy or icy conditions.
It was amazing what heat can do and for the first time I got cramp whilst running due to the amount of salt I was losing, lots and lots of stretching from mile 15 onwards got me round. I was so happy that my knee and hip injuries I had suffered with in training caused no problems on the day, so all the hard work with the exercises, stretching and sports massages really helped. I was also very grateful that I did not get any blisters, although I saw many injured feet at the finish line with blood blisters, damaged or fallen off nails, cuts etc. Having the right shoes and orthotics really does pay off in the end!
Throughout all the training I said I would never put myself through this again as the training was very intense, I said that the fact I raised a lot of money for charity was worth it but once only…. However of course I have already applied for a place again next year through the general ballot so I may get to experience it all again. I think it's impossible to experience that atmosphere on the day with strangers screaming your name and cheering you on to get you round the course and never want to feel that again! That feeling was worth every pain/ache/blood/sweat and tears from training and the day.
Finally, my last few tips for if were considering running a marathon for the first time:
Stick to a training plan- if like me you had no idea about how to train for such an endurance race having a plan to follow makes you make the right choices.
Listen to your body, if you need a few rest days take it… you will only suffer later on if you keep going when you need a break.
See experts – if you're having any issues seek expert help to make sure you stay well before the big day- health care professionals such as Podiatrists and Physiotherapists have a wealth of knowledge to keep you running.
Finally it is the biggest sense of achievement crossing that line to go for it, and ENJOY it!
Written by Laura Hembling
for advice or treatment call the Basildon/Romford Chiropody,Podiatry & Footwear Centres