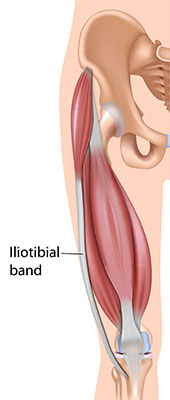 Having survived my weeks snowboarding holiday without any major injuries (other than lots of bruises!) I have been back at my training plan this week. It's been tough, it's amazing what a week off of running does to you, but mentally I felt I really needed a break from running as I was starting to dread putting my running trainers on and going out in the cold! Having returned in one piece I felt ready to get back on plan and I gradually got back into it at the start of the week by doing some shorter runs and have just completed my long run of 14 miles… it was tough both mentally and physically and unfortunately at about 12 miles I started to get a lot of pain on the outside of my right knee.
As I know about knee anatomy from my profession, I was quickly able to establish the cause of pain once I hobbled home. The location of my pain and type of pain leads me to believe it is Illiotibial band syndrome. This condition is a very common overuse injury in runners. The Illiotibial band is a long tendon that attaches from your hip to you knee along your outer thigh (see photo one). Repetitive movements, like running, can cause this structure to become tight and or inflamed (Runners world, 2017) causing pain around the attachment at the outer knee.
Once I got home from running I applied ice for 10 mins and will repeat this later to help reduce any localised pain and inflammation. It will also mean taking a few days rest from running to allow my symptoms to settle before gradually building up my mileage slowly. Runners world (2017) also have lots of useful tips to try reduce the risk of this occurring again, these include foam rolling (all leg muscles), long and regular stretching, and doing leg strengthening exercises to help build up my leg muscles and reduce any potential weakness… I will let you know how I get on!
Written by Laura Hembling
for advice or treatment call the Basildon/Romford Chiropody,Podiatry & Footwear Centres