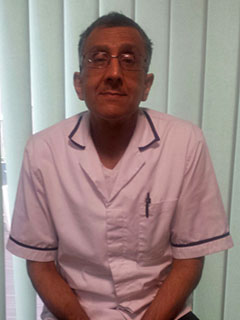 Mr Manjit Bedi qualified in 1987 from Cardiff School of Podiatry and is an experienced Podiatrist.
He has carried out a variety of posts in the Health Service, 22 years NHS Podiatry and 8 years as Senior Manager in Hospital.
Manjit has been our associate podiatrist here at Romford Chiropody, Podiatry & Footwear Centre since 2014 and is a well-liked popular practitioner with a variety of skills in skin and nail problems.
Manjit Bedi He is very attentive to the needs of nervous patients and carries out his treatments with great care. As well as routine foot care clinics Manjit carries out home visits for the practice. Manjits specialism and skills are in General Podiatry, Nail Surgery and Diabetic assessment.
In his free time, Manjit enjoys running and keeping fit and healthy.