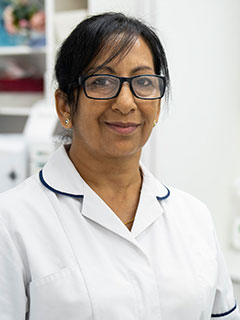 Hello, my name is Rashmita, I am a Podiatrist and part owner of Billericay Podiatry Clinic. During my working life I have had the benefit of extensive experience through working in the NHS and in private practice. Over the years I have attended many additional courses which have helped to reinforce my knowledge and allowed me to learn new skills and new thinking around treatment protocols and planning.
I also run a practice in Enfield which I have been doing for the past 18 years. This is within a multidisciplinary setting with other health professionals. This ran alongside working in the NHS. Entering private practice was a learning curve as I had to learn how to market my practice and build it from scratch. This has been a very valuable learning experience and continues to be as the world of marketing is always changing.
I have been a Podiatrist for over 30 years, and I still enjoy treating patients and helping them to feel better. Today we have the help of technology in the clinic to enable us to do this in a much more effective way. This together with an extensive and evolving knowledge base I feel is constantly improving the way in which I can provide and strive to provide excellent health care.
At Billericay I work as part of a team between two practices the other being Basildon Podiatry Clinic. Working as part of a team provides an opportunity to discuss issues with a colleague and also to refer a patient to someone who may be better able to deal with their issues. We have a team of extremely efficient and affable reception staff who have a great rapport with our patients.
I never feel as though I have been in this profession too long as it is always changing with new thinking and innovation.
When I have spare time, I like to go for a swim or to the gym. I also enjoy gardening and have many house plants. I also enjoy creative pursuits and my goal is to do more of this and especially painting.