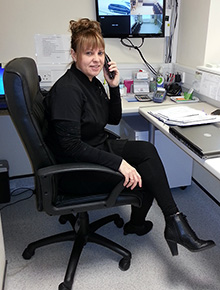 I started out as a receptionist at the Basildon Surgery in 2011.Over the years I have developed an interest and expertise in fitting footwear tailored to patients' individual needs.
I have a great understanding of the challenges people face in finding the right footwear to enable them to walk in comfort and now I am confidently able to advise and carry out footwear assessments as needed.
I love being part of the Basildon podiatry team and over the years I feel that I have built a great bond with Sushila. We have a good working relationship whereby we can laugh and have fun together. This is so important to me as I like to take my work seriously but want to be content and always look forward to coming to work.
I have built a rapour with the regular patients and always look forward to chatting with them, especially some of our elderly patients, whom I realize that, I may be the only person that they will have communicated with in person for that day or even longer.
I love speaking to and meeting all the different types of people that come through our door and I am here to make appointments for any of the services that are offered at the Surgery and answer any queries that they may have.
My hobbies are going to the Gym and Yoga.