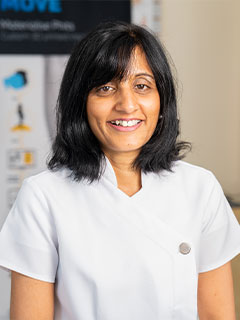 I qualified with a diploma in Podiatric Medicine from Cardiff University in 1988 and went on to study further to gain a BSc from Westminster university. My first job was working for Nottingham health authority.
I am a member of the Royal college of Podiatry and a member of the health and care Professions Council (formally known as State Registration). This is the only qualification that is recognized for employment in the National Health Service. The health and care Professions Council (HCPC) is a regulatory body.
The valuable experience that I gained in employment allowed me to set up private practice in Essex. I started out in a one room clinic with just myself as the Podiatrist with no other support.
At the same time, I also set up a Podiatry Clinic in the medical department of the Ford's Dunton Technical Centre in Essex.
Over the years I have learned that we are not just treating feet, but we are treating the whole person as pain can affect all aspects of a person's life. I have continued with my professional development throughout the years which in turn has enabled me to grow my practice whereby we now have a team which includes front of house support, Podiatrists and a beauty and laser therapist. I have also been able to open another site in Billericay and I work very closely with my sister Anita who is also a Podiatrist and owns the Romford branch.
Having a team has meant that I have been able to devote time to research and bring into the Practice new and innovative equipment. This has allowed me to concentrate on foot health education, particularly important for the diabetic patients m and further serve the community.
I have a special interest in being able to provide comfortable good-looking footwear, insoles, and prescription orthosis for our patients and again over time I have been able to expand and train our team to deliver a bespoke service.
I enjoy treating a variety of foot health problems to include all manner of foot pain, skin, and nail conditions however general footcare and prevention is most of my work and I take great pride in ensuring that patients walk away from us in a much better way than they walked in. Of course, many will go away saying that they are 'walking on air.'
The pandemic has been challenging but I have been able to return with the support of my team and adjust the way that we work so that we can offer a covid safety environment for all attending our clinics as well as for our in-house team.
I am proud and humbled of how our team have pulled together and how they approach their work in a professional and most important to me a caring and sensitive manner.
My mission is to improve the quality of my patients lives, keep them mobile and pain free so they can do the things that they love to do. I will strive to keep up to date with new technology and treatments.
My hobbies are spending quality time with my family and friends. Love to travel and meet new people when I can. I like reading, exercise, Zumba, body balance pilates and the odd dance. I also enjoy cooking and trying different types of cuisine and that does mean that I enjoy watching bake off and masterchef on tv.