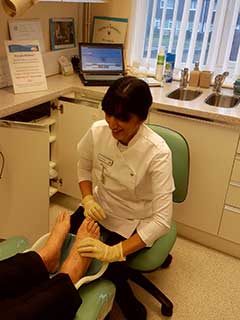 Sushila has been practicing for 29 years and is a member of the Society of chiropodists and Podiatrists.
She gained the qualification from Cardiff University in 1988 and went on to be employed by Nottingham Health Authority for two years.
She gained a further degree at Westminster in 1995 in Podiatric Medicine.
The valuable experience that she gained in employment allowed her to set up private practice in Essex.
She also set up a Podiatry Clinic in the medical department of the Ford's Dunton Technical Centre in Essex.
She is also a member of the Health and care Professions Council (formally known as State Registration).This is the only qualification that is recognized for employment in the National Health Service. The Health and care Professions Council (HCPC) is a regulatory body.
It is a legal requirement for certain health professionals to be registered.
Individuals registered by the HCPC are bound by strict codes of ethics and conduct. This includes Continual Professional Development.
Sushila has been treasurer for the south Essex branch of the Society of Chiropodists and Podiatrists since 2000.