Your latest Footcare Tips
Brought to you by our Professional Podiatrist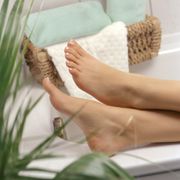 As soon as the spring arrives we start to see patients who come to our practices wanting to make their feet presentable for sandals, holidays and parties after a long winter of neglect and being stuffed into shoes and boots.
Since good foot care habits can in some cases prevent problems all together, we are always keen to advise on self-help.
As it is coming to that warmer (hopefully!) time of year, this is a great time to give you some top tips on foot care.
As we are in the month of springtime, there are glimmers of hope for warmth, sunny days, holidays and ditching the heavy winter coats and boots!
Time to get your feet out, give them an airing and freshen them up for summer time!
We know only too well that feet come in all shapes and sizes…..they are not everyone's favourite part of the body….but let's not forget that they are an essential and integral part of the body and not just for stuffing into pretty shoes, forgotten for the rest of the day until you take your shoes off at the end of a hard day's work!
Feet need good care not only to prevent problems but also so that they look more aesthetically pleasing.
Over the next few weeks we will be posting some useful blogs on caring for your feet and how to make the best of them….best foot forward!
This week's blog is for anyone who has UNSIGHTLY TOENAILS?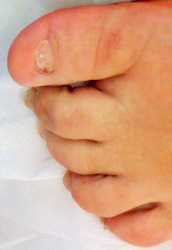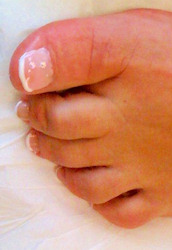 As podiatrists; we see lots of people in the clinic with nail problems. Disease processes and injury can often lead to unsightly and painful toe nails.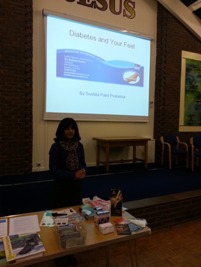 Nothing at all!
This is the church in Brentwood where I was invited to talk about diabetic feet.
We talked of the importance of having your feet looked after regularly by a Podiatrist, who would carry out regular diabetic foot assessments.
How the diabetic person can look after their feet themselves at home.
I emphasized the importance of wearing the correct and well fitting shoes as well the slippers.
Of course not forgetting that the Diabetic foot requires the same care and attention when away on holiday and this is the time when protective and comfortable shoes are also just as important.
Thank you to the group who were very kind to me and my assistant Simone and made us feel most welcome.

Basildon Podiatry & Romford Podiatry go to Glasgow
Keep tuned as we post up News, Inspirations, the Humorous and generally all things Feet!
If you have anything you want to share or comment on visit our Twitter and Facebook accounts where you will see articles from this blog.
Basildon and Romford Chiropody, Podiatry & Footwear Centres join forces and travel to the Glasgow Centenary Podiatry Conference at the SECC in October.
This was a fantastic event with learning, lectures, exhibitions.
Lots of new and progressive things to see and learn in the wonderful world of podiatry and chiropody!
...... And time for some fun too at the gala dinner held at the fabulous Glasgow museum on Friday night...a wonderful night at the museum with the Red Hot Chilli Pipers.....dancing on our feet all night long!
What People Say
Looking after my feet for 20 years

Sushila Patel has been looking after my feet for more than 20 years....

I no longer experience pain when walking

The treatment I received from Anita was of the highest professional...